Group Fitness, One on One PT, Boot Camp & Run Club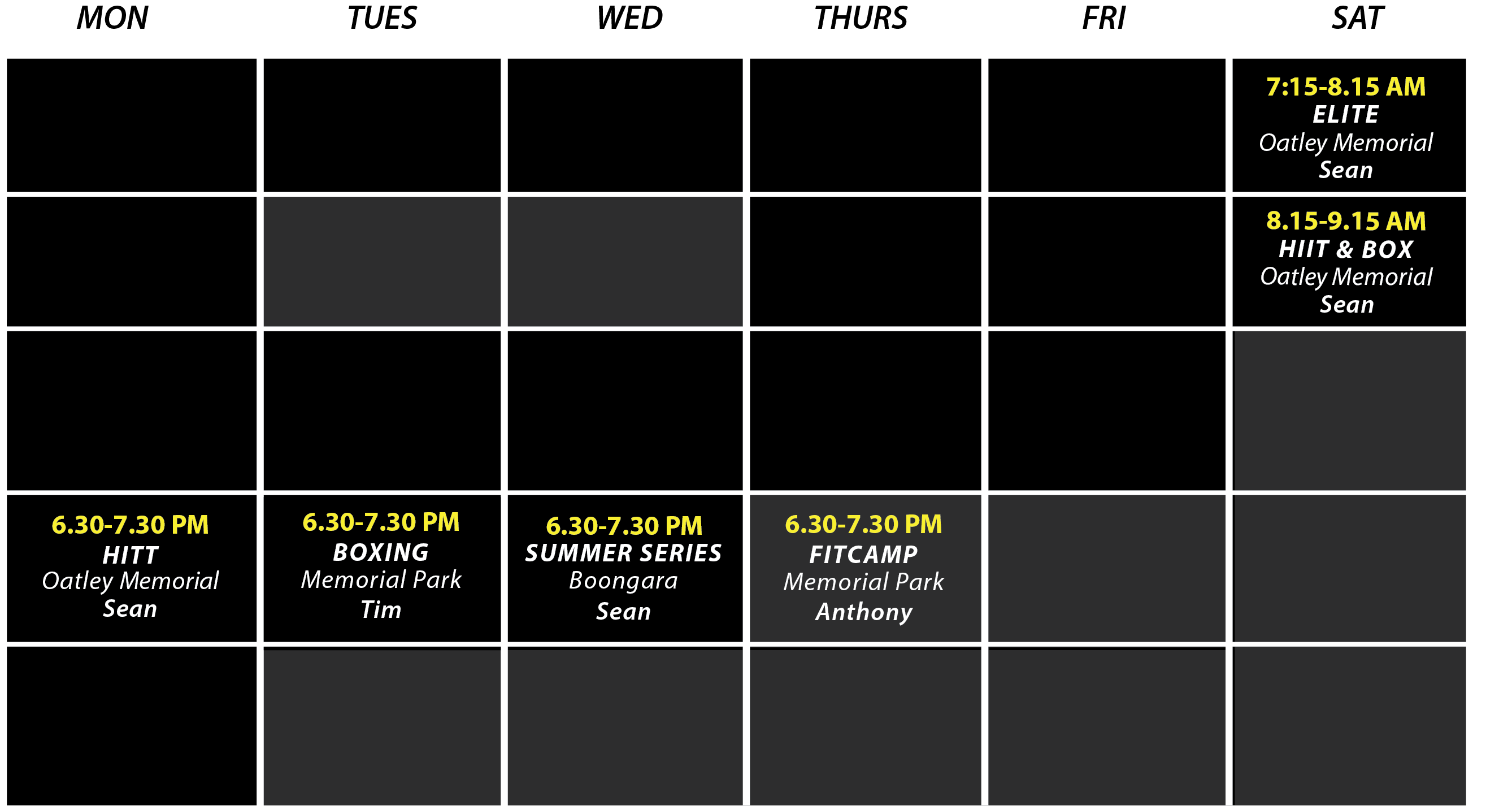 What to expect
At Real Results Fitness we take the best out of one-on-one personal training and make hard work easy in an outdoor group environment. There are classes for all ages and fitness levels including boot camp. So whether it's trimming up for summer or training for a sports event we WILL get you there. Book in for a trial session today!
The 2022 RRF Program
Corporate Programs (Please contact for details)

Our corporate programs face to face and virtually encourages locals and workers to get fitness out of the way during their lunch hour so they enjoy their mornings and evenings. The sessions are 45 minutes and we can tailor a package to your business's needs.

Oatley Program (Changes seasonally)

Base Camp
Base Camp is our entry level session and a great starting point. Saying that you can change the session and add variations so that it can be suitable for clientele that have a strong level of fitness.
All our Base Camp sessions work on the idea of 30 minutes of group intervals combined with 30 minutes of a challenging strength circuit.
Fitcamp

Each Session combines a different 40 Minute cardio or Strength Section with a 20 Minute Isolated body part section. For example week 1- 40 Minute Circuit for time + a 20 Minutes Abs section. Week 2 might then be 40 Minutes Boxing intervals + 20 Mins Arms section.. THE session for fat loss and muscle tone!!
3RM
3RM stands for3 round max. Its a fast paced interval session divided into 3 rounds that gives a time to beat and leaves you hanging for what exercise is next… The aim of 3RM is to get your best time in the third round (the hardest round).
Enduro (Monday 7pm location changes every few weeks)

RRF Enduro sessions combine the best of our Advanced and Elite sessions. Enduro is famous for varied location in Oatley Park (Hills, Stairs and secret features). If you enjoy sprints, short to medium timed running sections combined with ever changing short bursts of resistance sections you will get the most out of this session. Perfect for anyone that wants a lean, strong physique. RRF Enduro is open to anyone that is injury free and likes varied structured sessions. You will get the best of what Oatley park has to offer during this session.
Summer and Winter Series
Summer and Winter Series is a fun and ever changing Session. You can comfortably train for an hour. Summer Series will include Body weight exercises, (Be able to lift body weight on various planes), some technical free weight techniques, high Intensity intervals and an a boxing element involved. One of our most popular sessions over the 7 years of RRF. You will also get to train on many different unique places such as como, Oatley Park and Moore's reserve)
Elite (Saturday 7.15am)
If you like to be kept accountable either through beating your own own time or through partner/ team competition then the Elite is a great session Aim is to build strength, high intensity interval training. For the Athlete that can comfortably train for 60-90 minutes and complete advanced circuits reducing body fat, improve V02 Max. X-Fit Inspired routines. Some boxing involved
Boxing (Included in most sessions except Enduro)
Suitable for all fitness levels. A great mix of technical boxing combos and high heart rate circuits. There will also be a strong resistance and core presence here to promote strong bones. Full of variety, a great session for anyone that wishes to reach their fitness goal
Pricing

Pricing starts at just $12 per session if on the unlimited option. We currently have a few special offers on unlimited sessions to coincide with our new program for Winter 2018. RRF doesn't have any joining fees or long term contracts and offers student discounts.

Refunds or exchanges
We guarantee you will have a great experience with us at Real Results Fitness. If you are not happy with a session for any reason we will gladly refund you, no questions asked. If if you would prefer to transfer your session we support that too!
Terms and conditions of our programs
- Missed sessions can made up

- So others can have the opportunity to make up missed sessions please give 12 hours notice if you can't make a session, you can rebook online using our booking system.

- Payment is required in full before attending our program, once the term has commenced that you have paid for no refunds will be offered if you are unable to complete the term you have paid for. If you are unhappy with a session please let us a know within a few days and we will offer you a no questions asked refund on that session (see above)
- No refund will be offered for missed sessions due to sickness or illness, at the businesses discretion you may be offered a credit note to be used at a more appropriate time.